Professional technical documentation is the base for all next steps in each project.
Forfish Company offers professional preparation / development of documentation in each field of technology in accordance with the principles of technical drawing.
We can make professional drawings from the materials of the contracting authority (eg. Graphic files, PDF files, paper documentation), which may serve as a basis for publication, offer documentation or advertising materials.
Development of the documentation includes verification of  correctness of the merits (of the scope of the core business also from the technological side) in the field of construction and installation works for all industrial facilities.
Bellow the example of our work – AutoCAD fish processing farm layouts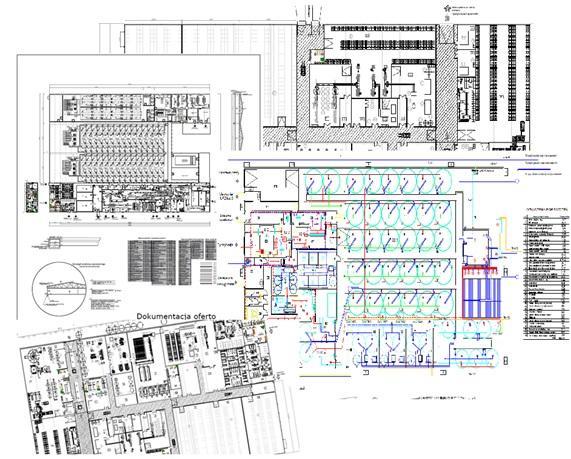 Corrected (redesigned in agreement with the investor) evident mistake of the technologist – technological lines, consisting of placing the entry for tankers in a collision with the building structure, visually separated communication routes which raised the readability of the organization's idea, redesigned the office rooms according to the ergonomic rules from the catalogue of production one of the companies, the lines used were changed, forgotten gates were added and the drawings of the whole woodwork in the building were corrected, as well as other parts of the drawing.
Each project are developed with the newest AutoCAD software or corresponded application form another supplier ( We can also work with Draftsight projects).
We approach each order individually choosing the scope and form to the expectations of the customer.